Two veterans told me of their frustrating experiences with VA.  They had these frustration trying to prove to the VA that Agent Orange exposure caused their medical conditions.  After listening to these experiences, my questions to them were:
"Why is the VA making you prove you actually came into contact with Agent Orange?"; and
"Why is the VA making you prove your disease was not caused by something other than Agent Orange?"
If the VA required either of these to establish certain service-connected disabilities, they probably have not followed their own rules.  I intend for this article to make you better informed about "presumptive exposure" to Agent Orange and "presumptive diseases" associated with that exposure.  This will help you know what you must demonstrate to establish service-connection for a Vietnam veteran.

At the beginning, it is also important to note that it is not only Vietnam veterans who may be eligible to receive benefits for Agent Orange exposure.  Certain Korean War veterans, "Blue Water" veterans and C-123 crew members may also have Agent Orange claims.
Who is presumed to have been exposed to Agent Orange?
In Agent Orange claims, "presumptive exposure" simply means that VA's own regulations require the VA to treat all veterans who served in Vietnam the same.  VA must presume all Vietnam veterans were exposed to Agent Orange if they served in Vietnam sometime between January 9, 1962 and May 7, 1975.  This means the VA does not need to determine whether the veteran was actually exposed or came into contact with Agent Orange during his service.
Also, it does not matter how long the veteran served in Vietnam – one day or one year is treated the same.  The VA is required to assume that all Vietnam veterans were exposed to Agent Orange.  It does not need to look into the specific facts of each veteran's service there.
That is important because it is usually pretty easy to know whether or not someone served in Vietnam.  Veterans find it difficult to prove the type and amount of their chemical exposure during service.
Those issues would be hard for the veteran to establish and hard for the VA to decide.  Because of that, VA adopted regulations that streamlined Agent Orange claims to make them less burdensome for veterans and faster for the VA to process.
What Medical Conditions are presumed to be caused by Agent Orange?
However, even after a veteran establishes exposure to Agent Orange during service, the veteran must still establish a nexus between the exposure and the veteran's disability. This means that the veteran must show that  Agent Orange caused the veteran's particular diseases or medical conditions.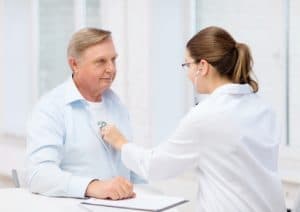 Fortunately, a similar presumption applies here.  A "presumptive disease" is one VA must presume was caused by Agent Orange exposure.  There are several presumptive diseases that affect millions of veterans.  These disease including prostate cancer, lung cancer, heart disease, Parkinson's disease, and Type 2 Diabetes, among others.
Can VA defeat the Agent Orange presumptions?
Unlike the presumption for Agent Orange exposure, the presumption that Agent Orange caused a veteran's disease is a little more complicated.  VA can defeat it in several ways.
If the VA has evidence that the disease was not caused by Agent Orange but is instead the result of some other factor, the VA can still deny service-connection for the disease.  An example would be medical records suggesting that the veteran's Type 2 diabetes was caused by steroids prescribed for a non-service-connected medical condition.  However, it is important to understand that this does not mean that the veteran has the burden of proving there is no other cause.  It merely means that if evidence of another cause is submitted or obtained by the VA, then the VA can consider it and may use it to rebut the presumption that the veteran's disease was caused by Agent Orange.
If the disease is one of the covered cancers, the VA may still deny the claim if they determine that the listed cancer (lung cancer, for example) developed after a non-covered cancer elsewhere in the body spread to the lungs.
Because VA can rebut the Agent Orange presumptions, you need to have proper documentation from your doctor.  Having this document will reduce the possibility of having VA wrongfully deny your claim.
Questions?
Many Vietnam veterans have developed diseases covered by the Agent Orange presumption.  If you think you are one of them, consider filing a claim if you have not already.  Then, make sure the VA applies the correct legal standard in deciding your claim.
You may have questions along the way.  Many veterans find it helpful to discuss their questions with one of our accredited veterans benefits attorneys.  The best way to do that is to set up a consultation with them.
If you want to set up a free consultation, just read this article that explains how a consultation works.  To set up a free consultation, just call us at (770) 214-8885 or complete and submit this short consultation request form.