According to a press release issued by the Veterans Affairs Department last week, along with a related article from Army Times, military service members who have worked and/or lived in the proximity of burn pits in the Afghanistan, Iraq, the Persian Gulf War, and other assigned locations are likely to have been exposed to potentially dangerous smoke. Reported physical ailments, include, but are not limited to, difficulty breathing, depression, rare lung diseases, and malignant tumors.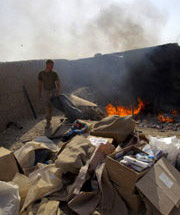 Burn Pit Registry Established
In an effort to track military service members who were exposed to burn pits, the 2012 Dignified Burial and Veterans Benefits Improvement Act requires that VA establish a "burn pit registry" by January 2014. The proposed registry will include an online questionnaire that will allow active duty and veteran service members to report burn pit exposure and any related health concerns. This information will be used to keep affected service members and veterans up-to-date on developing treatments for injuries sustained from exposure to burn pit smoke and pollutants.
Public Input on Burn Pit Registry
As required by law, VA is requesting public input on the proposed "Airborne Hazards and Open Burn Pit Registry." If you are interested in voicing your opinion, you are encouraged to visit the U.S. government's federal regulations website.  If you want to find out more about burn pits, take a look at our blog article.