In a recent Times Georgian article, Winston Jones reported about a great project where the American Legion Post 143 and a few local businesses have partnered with the Trinka Davis Veterans Village Community Living Center in Carrollton to provide opportunities for fishing trips to veterans who are residents at the Trinka Davis Veterans Village.  Operated by the U.S. Department of Veterans Affairs, the Veterans Village Living Center offers medical clinic services for military veterans.  Jones writes, "The $17 million facility was financed by a donation from the late Katharine 'Trinka' Davis, a Carroll County business owner, who wanted to leave her estate to benefit local veterans."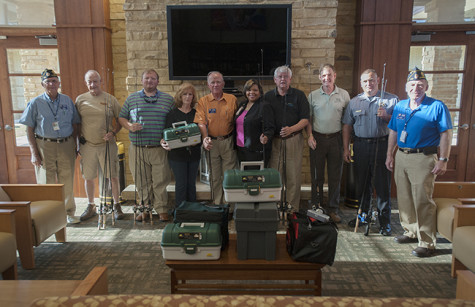 Those responsible for putting the fishing kits together [see above photo] met the morning of May 29th at the Veterans Village to present donated fishing gear to the residents. Collectively, the group donated rods, reels, and tackle boxes in order to honor local veterans and in hopes that other area individuals, businesses, and organizations will be inspired to contribute to the project as well.
According to Dr. Connie Hampton, the nurse executive at the center, the next step is to organize monthly fishing trips to area lakes and rivers. Don Levans, commander of Post 143 says, "… [t]hey're ready for a fishing trip. We just need a good place for them to fish." Dr. Hampton told Jones that they're seeking "good fishing spots…with wheelchair accessibility," including both public and private lakes and rivers.  If you have suggestions, questions, or interest in contributing to the project, inquiries should be directed to Dr. Connie Hampton at 404-321-6111, extension 7728.