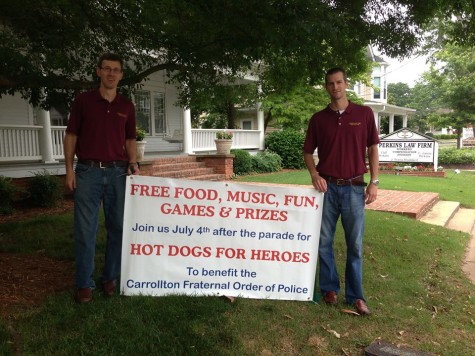 Our much anticipated 4th annual Hot Dogs for Heroes event has finally arrived! This Thursday, prior to our event honoring our police officers and United States veterans, be sure to look for our parade float in Carrollton's People's Parade. We are honored to have Patrick Moore, two-time winner of the Atlanta portion of the Colgate Country Showdown & qualifier for the Nashville Star TV show, performing patriotic songs on our float! A big thank you to Wallace Builders' Supply in Bowdon for donating the lumber we needed to build our float.
Barring rain, our Hot Dogs for Heroes event will commence just after the parade. The event will feature free food, drink, music, games, contests, a kids' play area, and more! For the 4th year in a row, our July 4th celebration will feature musical entertainment from Jerry Rogers. The event is totally free, but we will be accepting donations to benefit the Carrollton Fraternal Order of Police and Police Explorer scouts.
To RSVP to our event, click here. To learn more about our event, you can read this article from the Times Georgian, or you can listen to Travis Studdard discussing Hot Dogs for Heroes on this morning's "Community Voice" on WLBB 1330 AM! Since there is a chance of rain, please check our Perkins Studdard Facebook page and/or our Hot Dogs for Heroes website, where you can find up-to-date information about the event. If the event needs to be postponed or rescheduled due to weather, we will have information on both our Facebook page and Hot Dogs for Heroes website.
We hope to see you this Thursday to celebrate our heroes!